Over the past few months, I've been collecting many great websites and EdTech tools to share. One in particular is a tool called FlipSnack.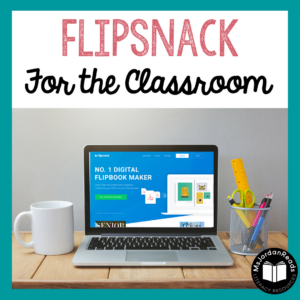 What is FlipSnack?
FlipSnack is a tool from SnackTools for making fabulous flipping books! (Snacktools has a variety of other website design tools such as a slideshow maker, banner maker, podcast player, and so much more.) It is perfect for sharing instructional and professional documents.
I first discovered FlipSnack when looking for a way to share PDFs digitally, without having to include digital-file attachments. The basic service is FREE, with the option to upgrade to a Premium Membership ($$) for more features. So far, I've been satisfied with the free membership and haven't needed to upgrade to the Premium-level account.
To make your flipbook, all you have to do is:
Register for an account
Upload your PDF file(s) from your computer (**NOTE: you can upload more than one and have them connected as ONE document! Great for making class books!)
Select your Flipbook style (classic, spiral, hard-cover, etc.), color, and viewing/sharing options
Share!
The flipbooks are easy to share and even easier to view! It has a zooming option, as well as thumbnail previews and slideshow capabilities. There are direct links to share your flipbook via Facebook, Twitter, and email. You can embed the flipbook into your blog, however there is a watermark for those with only a free membership. Premium members can embed without watermarks.
The quality is clear and the books are fantastic! Currently, I'm exploring this flipbook format to share conference brochures,  workshop flyers, and most of all the digital newsletter for the Niagara Frontier Reading Council.
Other Great Uses:
Classroom books (scan/convert student work into PDF files and then upload each file to put together!)
Classroom policy packets (for parents!)
Spelling lists (to post on your classroom website!)
Vacation packets
Weekly/Monthly classroom newsletters
Research projects
Presentation materials (handouts, etc.)
… so much more!
—
Happy Teaching!