I'm always looking for apps that help save time and energy for teachers. This one is perfect for a quick fluency assessment – whether to diagnose a fluency issue or track a student who is already receiving fluency support. This easy-to-use app one is great for the classroom (grades 1-8) and worth checking out!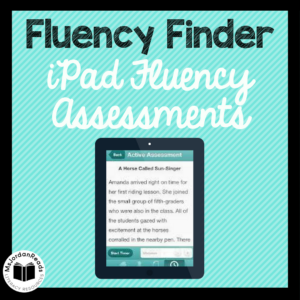 Fluency Finder can be used with your iPad, iPhone, or iPod Touch to help assess and track oral reading fluency with your students. You can use it on your personal device or on one purchased through your school or district.
Developed by a classroom teacher, this app is simple, yet very effective. Students read passages (printable) as you use the timer and wpm tracking tool to determine the students fluency score. Although it does not track the substitutions or type of miscue, you can keep a running tally of number of words read correctly that will help you decide whether you need to assess further.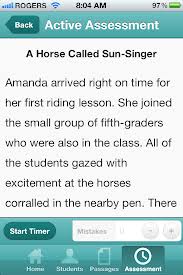 The app stores your student data so that you can track progress and compare fluency scores across multiple assessment sessions. You can manage data for all the students in your class or for students from multiple classrooms (great for reading teachers, like myself!).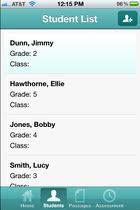 The passages are grade-level appropriate and range from grades 1-8. As of now, there are six passages for each grade level, but there are plans for the developer to add more. The passages are free from the Fluency Finder website. Students can read them from the computer or you can print them. I keep all my passages in a bound book that I created (see image below) for easy access.
After you determine which students you're assessing and when you plan to administer these quick assessments, you can create a management plan that works for you. Travel from student to student during silent reading times to have students do their quick fluency checks (similar to 1:1 reading conferences), assess them during small group reading time, or call them over to your desk one at a time. Parent volunteers, teacher assistants, or other personnel could even administer these fluency checks.
Having this fluency tool on a hand-held device makes fluency assessment convenient and much more accessible. It is simple in its function, but for a quick screen or fluency check, this app is perfect!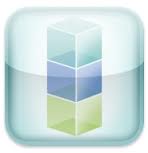 Check out Fluency Finder on their website or download the app from the Apple store here!
—
Happy Teaching!