With my small group pull-out sessions limited to half-hour increments, I'm always looking for quick (fun!) reading and writing activities to reinforce literacy skills. For some reason though, when I think of dice games, my mind always jumps to math and probability. Little did I know, there's a whole WORLD of possibilities for using dice with literacy! My mind is churning (uh oh!) and I'm already making lists of all the resources I want to create. I have a feeling this year will be fun as I continue to explore and develop literacy-focused dice activities to use with my students. It may be a little loud, too…
Let's Shake & Roll!
Here's a sample of what I've been creating. I hope you find these resources helpful as you head back to school and continue to build up your own instructional toolbox!
Roll-a-Story!
This summer I taught a writing workshop at a local bookstore and had my students create story starters using the  following Roll-a-Story chart. With each roll of the dice (three total!), the students had a character, setting, and problem to use as a basis for their creative stories.
(Download your copy here or click the picture below!)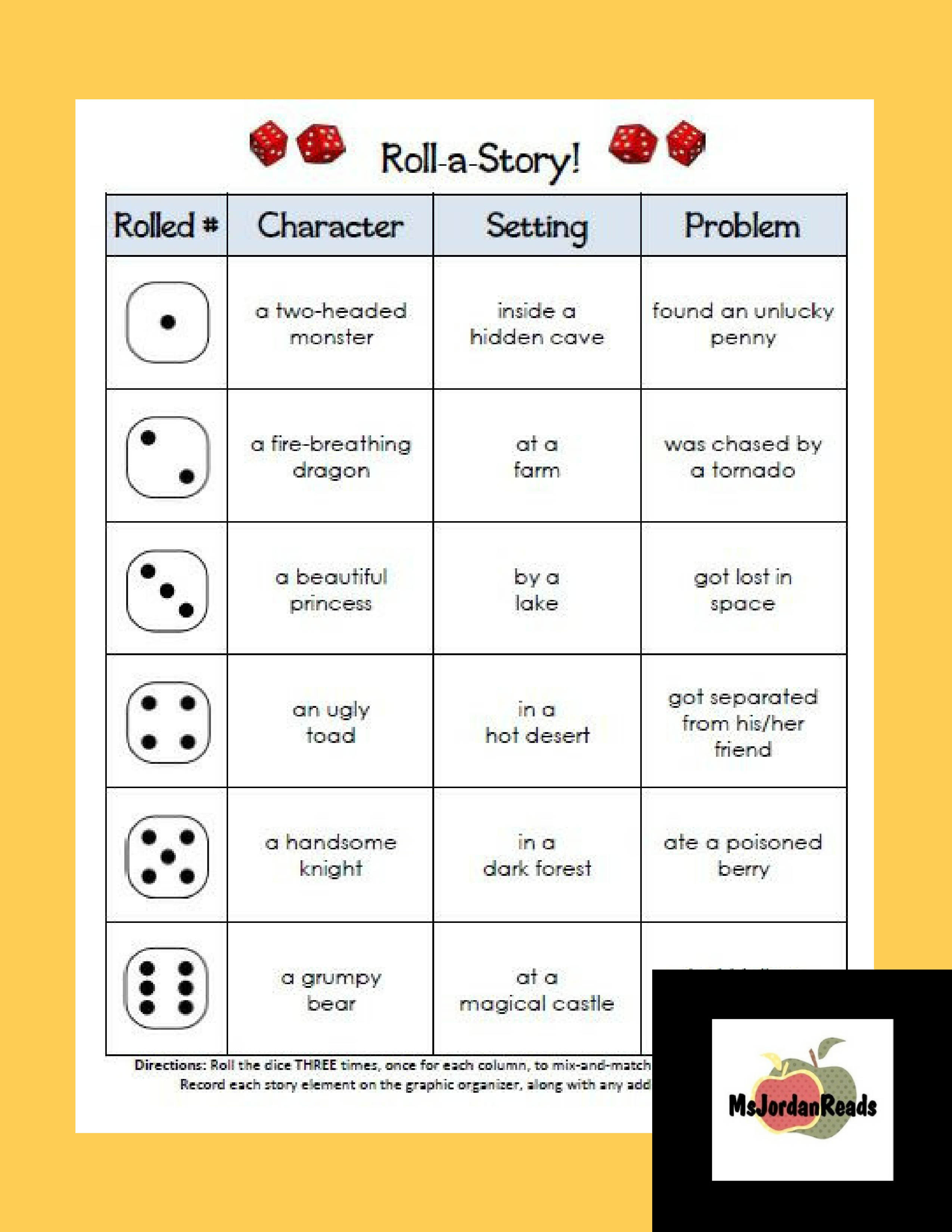 Once students collected their three story elements, they recorded them on a graphic organizer (included in freebie!) and planned out the rest of the story. If they weren't happy with their story starter, they were able to roll again, but I did have to put a time-limit on this loud, rolling fun.
Roll-an-Emotion!
For fluency practice, I created a Roll-an-Emotion! activity to reinforce reading with expression. Essentially, students roll-a-dice two times… once to determine which word/phrase card to read, and a second time to determine which emotion to apply to their reading! Cards are not included in the sample, but you can use any cards you have that list simple words, phrases, or sentences.
(Download your copy here or click the picture below!)

(Note: This is a sample activity page from my Fluency Boot Camp product which I referenced in my "Fluency Boot Camp!" blog post this past February. It is my most popular product and includes everything you need to get started with fluency, including phrase and sentence cards. Feel free to check it out!)
Roll-a-Reading Partner!
It's "clock partners" with a twist! Each student has to find six reading partners and record their names on the planner, one partner in each spot (see picture below). The trick is for the partner to write the corresponding student's name in the same exact spot or it won't work! The teacher or class helper rolls the dice and whatever number is rolled will be the listed dice partner pairs for the task/activity. Big foam dice are perfect for this!
(Download your copy here or click the picture below!)
Other FREE Dice Activity Resources
All Things Dice:
Reading:
Writing:
Technology:
(NOTE: For variation with activities, you can make choices more challenging by using numbers greater than 6 and having students add the numbers of the two dice!)
A Tip for Your Sanity
Here's a helpful management tip I came across that will prevent flying dice in your classroom! It's still loud, but it helps… a lot. Use small plastic container to contain the individual dice. (Isn't that brilliant?!) Of course, being slightly addicted, I found this wonderful idea on Pinterest (shared by Sunny Days in Second Grade, who also got the idea from Pinterest). For my small groups, I bought a package of small plastic containers
 and filled each with one or two dice. My sanity is still intact, and my teaching colleagues whom I share a room with don't hate me as much since my students aren't distracting their groups trying to find their dice. I guess I should change all my product titles to "Shake-a-Dice" activities now though. 🙂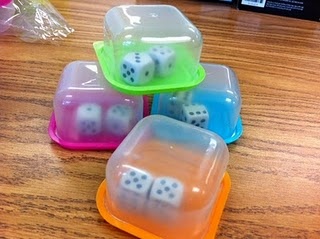 If noise is an issue, you can use foam dice (large
 or small
) or even colorful foam sheets
 as individual dice placemats for each student! It doesn't prevent rolling or bouncing, but it does help with the noise.
Happy Back-to-School Teaching!

**This post contains affiliate links. Click 

HERE

 to learn what that means!
---
Looking for Additional Materials?
Check out my Roll-a-Dice Activity category page here which includes my popular interactive "Roll-a-Story" Writing Activity resources!