Do your students make a lot of visual errors?
Visual discrimination is a tough for many readers who struggle with decoding. Many of the substitutions I see with my students include words with similar shapes, blends, vowels, or word chunks. I like to dig deeper to find out what TYPE of visual errors the students are making so that I can then help them train their eyes to read more accurately!
Reading Specialists are trained to analyze decoding miscues and determine interventions to address our students' decoding needs, but this is something classroom teachers can do, too! Exploring informal assessments and interventions to address student needs is even more important now with the new Response to Intervention (RtI) mandates. Classroom teachers are expected to differentiate instruction at a higher-level and implement effective interventions to target student needs.
Here are a few ways to get you started with assessing, tracking, and practicing visual discrimination, tracking, and ACCURACY. Not only could your students make significant gains, but you'll have valuable data to bring to instructional support meetings, building data days, and parent-teacher conferences!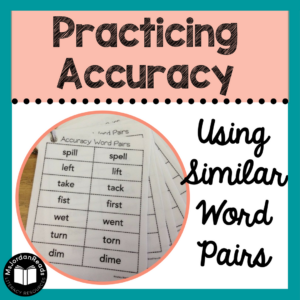 Assessment with Accuracy Word Pairs
When to Assess
Depending on your student population, you could assess your whole class, or individual students, as needed.
Fall/Winter/Spring – You can assess every student in the beginning of the year to get a snapshot of your class and create targeted intervention groups for Reading Workshop or Guided Reading. Follow-up with winter and spring "checks" to track achievement and compare accuracy scores.
As Needed – You can use this assessment to follow-up with a running record (formal or informal) for individual students who make A LOT of visual errors. This will allow you to "dig deeper" and find out their pattern of errors.
How to Assess Visual Errors
Depending on the grade-level and stamina of the students you're assessing. You may want to start with just a few word lists. I only do 3-4 word-lists with my second graders in one sitting, but 8-10 with my fifth graders. If I'm interested in getting a comprehensive assessment of ALL word pairs, I'll break up my assessment over a couple of days. 

Pull one student at a time. Each student will read from the word lists while you mark a word correct (check mark) or incorrect (record the word/s they substituted).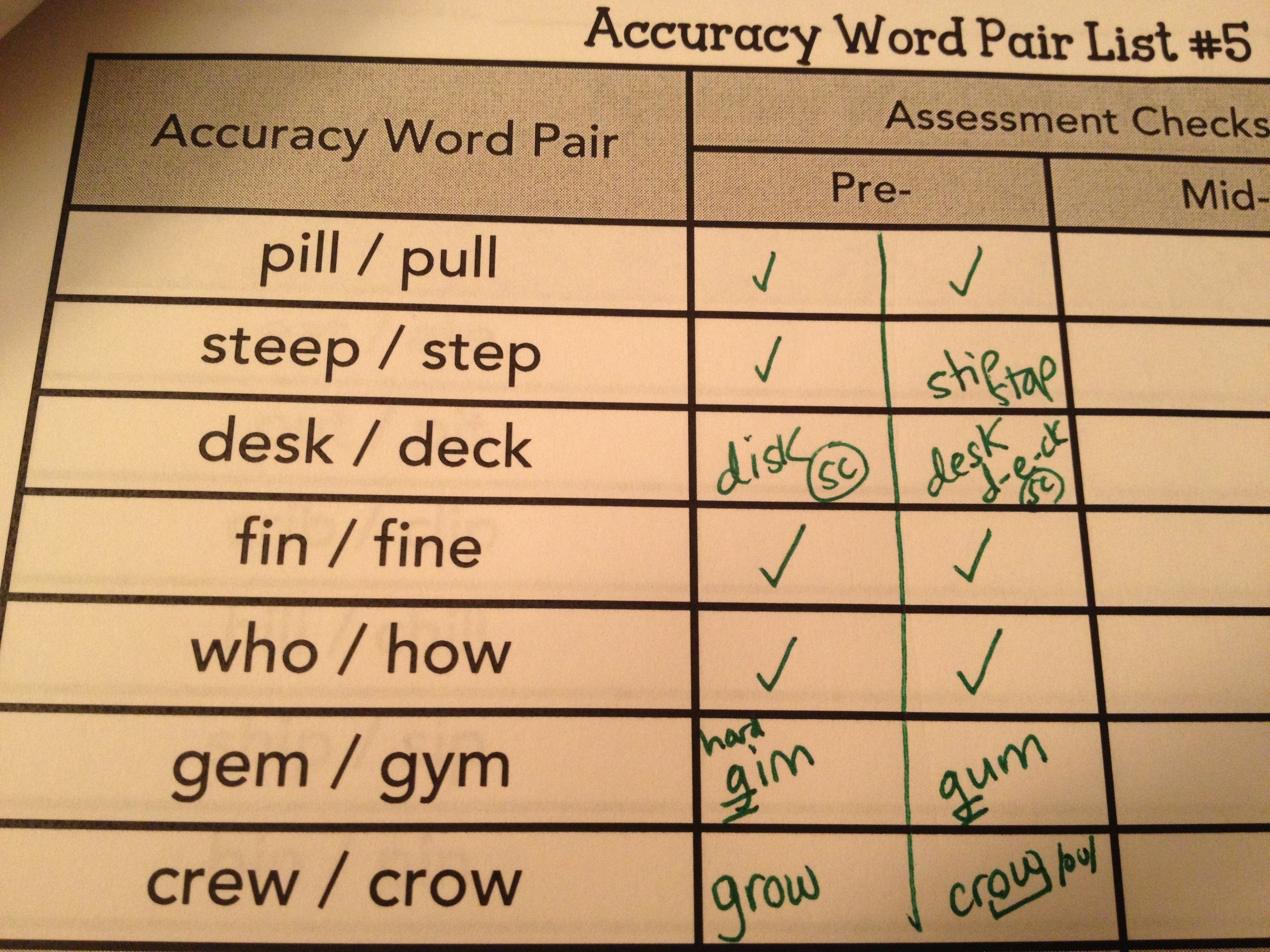 (The downloads, shared below, include split columns for easier assessment and tracking! This was my personal tracking sheet version before I posted it on TpT and TN.)
After you complete the assessment, count up the number of word pairs the students read automatically (within 3 seconds) and correctly (more than 3 second, including self-corrections). Record the numbers on a tracking sheet. 

**If using the The Complete Packet for Assessment & Practice, use the tracking sheets and "Student Assessment Profile" to record all the data. 
Once all the corrects are recorded, you'll want to take a closer look at the visual errors. Use a Miscue Analysis Menu to tally up the # of each type of visual miscue. (Download this FREE menu from my sample assessment packet, also listed below!)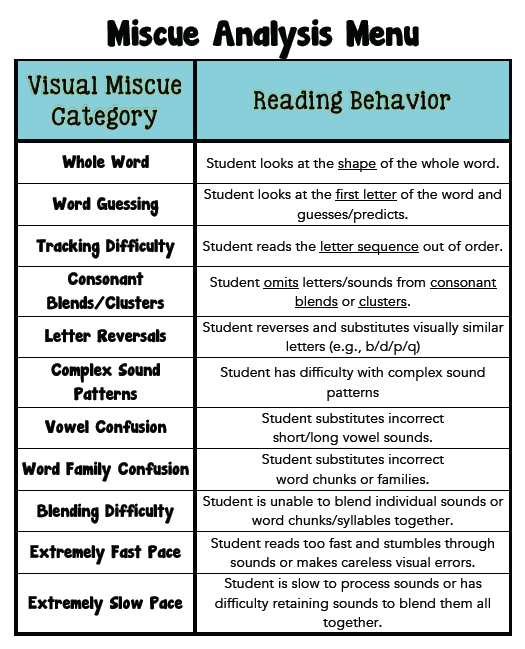 Practice with Accuracy Word Pairs
Once you determine what type of visual errors your students are making, you can use that information to drive your instruction. If your students are substituting incorrect vowels for many of their miscues, you'll want to review vowel sounds and patterns. If your students are substituting words with incorrect blends, perhaps you'll want to work on making and breaking sounds with two and three-letter blends. The information you collect will only help you if you choose to use it. Integrate accuracy interventions into your small group instruction or 1:1 conference time with students. Send home practice materials or create Literacy Centers to address common visual discrimination issues in your classroom. You can build opportunities for practice into the structure you already have in place for Guided Reading or Reading Workshop.
Literacy Center Ideas:
Circle-a-Word –

Students circle the visually similar words that are listed in a sentence. (Create sentences on a single page or use laminated sentence strips and have students circle with dry-erase marker.)

Highlight-a-Letter –

Students highlight the differences between the pairs. (Provide printed copies of the word lists they can highlight, or laminate the word lists and have students can go over the letter differences with a dry-erase markers.)

Write-a-Sentence –

Students write visually similar words in a sentence. (Provide students with a list of word pairs and have them create sentences that include BOTH words in the pair. Have them highlight the word pairs after they finish!)

Write-a-Story –

Students write visually similar words in a story, poem, comic, etc. (Provide students with a list of word pairs and have them create a story, poem, comic, or another writing format of their choice using a full LIST of word pairs. Have them highlight the word pairs after they finish!).

Type-a-Word Pair –

Students type similar word pairs. (Provide students with a list of word pairs and have them practice typing them on the computer. If they are computer savvy, they can even bold/italicize, change the font or format the color of the differences between the pairs.)

Rainbow Writing Pairs –

Students use colored pencils to write similar word pairs. (Provide students with a list of word pairs and have them copy over using different colors to write the letters for the word pair differences.)
Additional Activities:
Speed Drills — Track pace & accuracy in a 1-3 minute assessment (use progress graphs to mark # of accuracy word pairs read correctly for each speed drill)
Practice Word Lists — Create take-home word list packets or individual keychains
Board Games — Pair popular board games with "Accuracy Word Pair" cards (cut word lists into rows so that word pairs are displayed on ONE card)
Power Points/Slideshows — Create individual slideshows for students to use on the computer. Include word pairs that were challenging or read incorrectly and then link them on your website or send them home on a CD-rom. Make changes as students master the tricky word pairs!)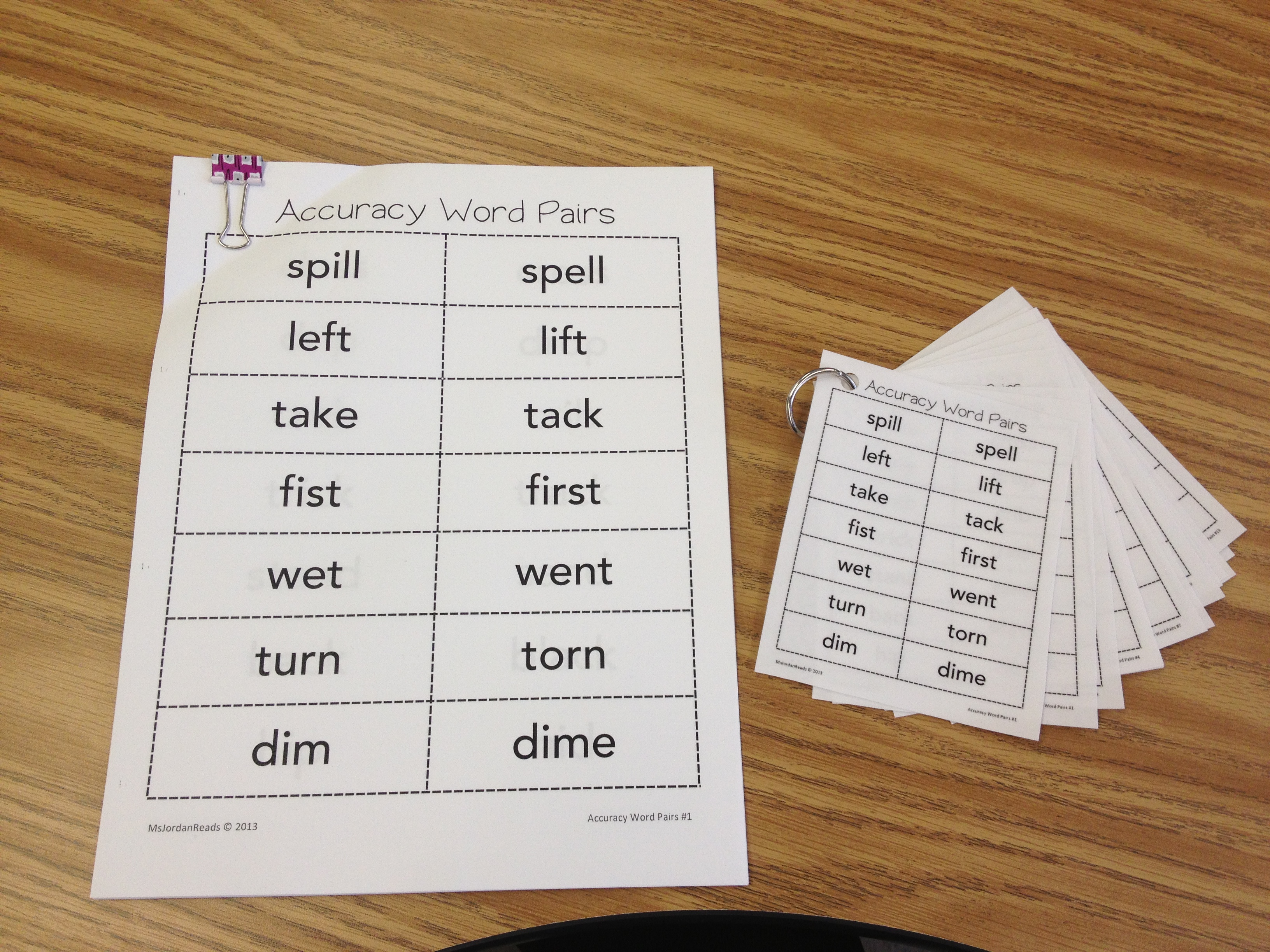 Resources
Check out a 5-page SAMPLE from my newest product, "Accuracy Word Pairs: The Complete Packet for Assessment & Practice." Interested in the COMPLETE version? Click the image below or click here to download the thumbnail preview!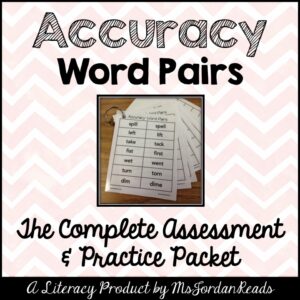 —
Do you have any additional ideas for practicing visual discrimination, tracking, and accuracy? Post them in the comments section to SHARE!
—
Happy Teaching!