Yee-haw! Have you ever been to a rodeo?
I still can't believe I'm writing this… but I have! This born-and-raised New Yorker can finally check that item off her bucket list. My friend Samantha took my husband and I to one when we were visiting her in Austin, Texas. It was definitely a fun experience, especially since we don't have any rodeos in my neck of the woods.
As life would have it, you find inspiration in the most unusual places. On the plane ride home, I wrote this partner poem to capture the experiences I imagined the cowboy and bull to have. Two different perspectives + two different voices = PERFECT for a partner poem!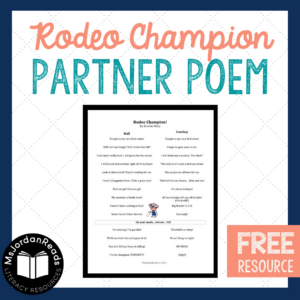 (Download "Rodeo Champion" here or by clicking the image above!)
I'm offering this fun poem for FREE to my favorite blog readers! Feel free to download and use it with your students for poetry month, everyday fluency practice, or if you live in Texas… "Rodeo Day" (apparently that's a thing!). If you're interested in comprehension activities and text-based questions that go with this poem, consider purchasing the whole packet, available in my TpT store.
Did you like this poem? I would love for you to check out my other partner poetry packets!

—
Happy Teaching!