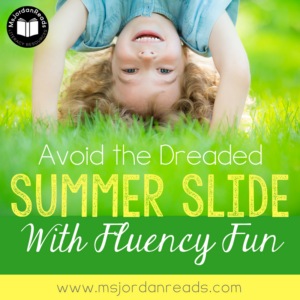 Practicing oral reading fluency throughout the summer is a great way for children to further develop reading skills and prevent summer regression.
Fluency is the glue that holds together oral reading and comprehension. Without fluency, your student or child may have a difficult time understanding the text they are reading. It is the path to comprehension and is a key foundational skill for children who are learning to read.
There are many resources and activities you can use to develop fluency skills. Many of the activities are free and just require books or texts at your child's "independent level." The goal is not to challenge your child with complex phonics patterns or unknown words, but to have them interact with texts that are on the easier side. This transfers the focus from "word reading" to "reading for meaning."
Over the past few years, I've shared many fluency activities for teachers to use in the classroom; however, many of these activities can be used at home, as well.
Activities for Fluency Fun & Practice
Here are a few fluency activities that parents can try at home this summer:
Rereading
Rereading texts is one of the best ways to improve oral reading fluency (and comprehension!). After the first read-through, students are more familiar with the words and can focus on grouping words together, adding expression, and stopping at punctuation. They can also try to improve their reading pace. Although reading speed is not the biggest focus of fluency, an improved pace will subsequently improve your child's comprehension of texts. The pace should increase naturally as your child completes multiple readings of the same text!
Poetry
Poetry is a great way for children to practice fluency! Typically, poems are short enough that they can complete multiple readings in one sitting. If your child needs fluency practice, he/she would benefit from listening to someone read each poem with "good fluency" first before practicing it. As a parent, you can model the poem and then have your child "echo read" each line to build up accuracy and phrasing. It takes away the "unknown word barrier" and allows your child to focus on changing his/her voice to sound like you! Poetry is an effective resource that allows children to practice all the components of fluency at once.
Audio Recording
Having children record themselves reading is an extremely powerful fluency tool! There are many free programs out there that are easy to use and allow kids to record their reading (i.e., Audacity for computers, iTalk for Apple devices, etc.). The playback feature of these recordings is the key to fluency development and can build self-awareness for kids regarding HOW they sound as readers. Many children don't even realize how disfluent they actually are! With the playback feature, your child can listen to his/her recordings and reflect on the different parts of fluency. Encourage your child to answer the following questions: Did I read with appropriate pace? Did I read with phrasing? Did I read with expression? Did I attend to punctuation? Through reflections, your child can set goals and try to make changes. He/she can later compare repeated readings and listen for improvements.
Audio Books
Audio books are wonderful for summer break! With these "books-on-tape," kids can follow along in a text as someone else reads to them. The power of modeled fluency is HUGE. Your child can listen to how fluent readers group their words together into phrases, change their voices to match character emotions and punctuation, pause appropriately after phrasing and punctuation, and apply intonation.
As our world becomes more digital, there are websites popping up everywhere that offer "Read to Me" books, such as Reading A-Z, Epic!, Farfaria, MeeGenius and more! Hundreds of books-on-CD and audio books are also available through Amazon
, Barnes & Noble, and iTunes.
If you're looking for a few free audio books to start with, NOOK Read to Me Books are fabulous and can be used on any device you can download the app to. (My students listen and read the free NOOK "Read to Me" books I've downloaded through the NOOK app on our iPads.) Also, if your local library is like mine, you can download audio books to your personal device via their website, using software such as Overdrive. This is a great way to bring new audio books into your home or classroom each week. If you have a long car trip coming up, audio books are an extremely valuable way to fill the time!
"Fluency Fun" Picture Books
If you are already reading with your child, why not pick some fun fluency books? These picture books will be sure to bring out your best phrasing and expression. Be silly. Have fun. Show off your fluency!
The books listed below are my favorite for modeling and practicing fluency, especially expression. Use them for read-alouds, partner reading, and choral reading (reading at the same time). You can even read them at bedtime!
Daily Fluency Task Cards — Summer FREEBIE!
To help you avoid the "summer slide," I'm sharing my SUMMER set of seasonal Daily Fluency task cards. This resource is perfect for parents looking to further develop their child's fluency skills. The resource is also great for teachers who are tutoring or teaching summer school during the summer months!
The fluency task cards in this set are geared toward grades 2/3 and focus on the four major components of fluency: Pace, Phrasing, Expression, and Attention to Punctuation. (Want to learn more about each of the fluency components? Download my free "What is Fluency?" Reference Sheet HERE, or read more about fluency HERE!)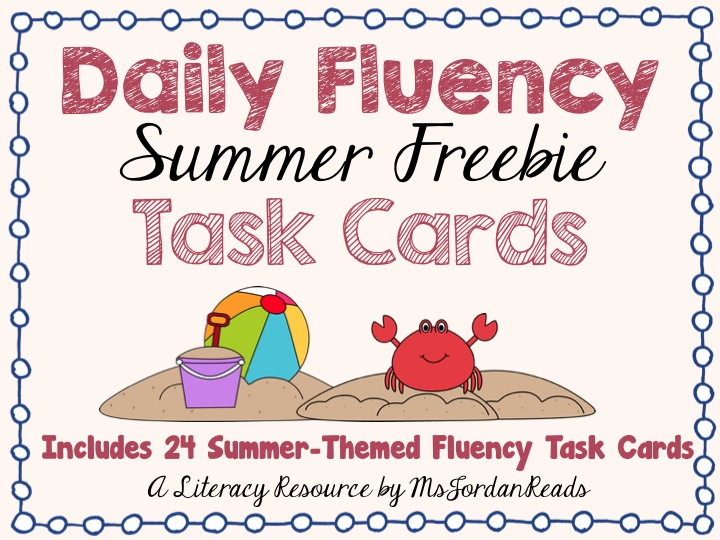 (Download this free resource HERE or by clicking the image above!)
How to Use Fluency Task Cards at Home
After modeling and going over the directions listed for each task, your child should be able to use these fluency task cards independently. You can put the cards on a key ring, organize them in an index card box, or even put them in a dollar store photo book. Each day, have your child complete 1-2 task cards and record the completed task cards on the task card log. There are four sets for your child to rotate through.
You child should practice each task card aloud a few times. (Repeated readings are built into each task.) You can even create a DIY whisper phone using PVC pipes so they can monitor their fluency and hear themselves read! Every task has a specific fluency focus (i.e., pace, phrasing, expression, punctuation), but you will find that students will need to combine fluency skills to complete each card.
Tips for Promoting Summer Fluency Development
Obviously, fluency is not a skill that develops overnight. Like most reading skills, it takes consistent practice and requires your child to read EVERY. SINGLE. DAY.
Here is a review of a few tips and suggestions I shared in this post to help you promote fluency development at home this summer:
Encourage repeated reading (reading a text multiple times)
Read lots of poetry
Choose books that are at easier levels
Build in time

everyday

for your child to practice reading
Read to your child to model appropriate fluency
Encourage your child to read along with audio books
Have your child record their voice while reading to reflect and set goals
Switch it up — echo read, choral read, and partner read
Complete fluency task cards! 🙂
—
NOTE: This post was originally part of the Summer Blog Party Kick Off Hop! Check out the first post in the blog hop HERE to scoop up all the summer reading ideas and resources. Continue on to the next stop in the blog hop here at Literacy Spark! 
—
Happy Summer!

**This post contains affiliate links. Click 

HERE

 to learn what that means!
---
Pin for Later: